By Ted Perkins
ofni.swen-rats@snikrepdet
Over the summer, criminal activity, trash and graffiti have been hot topics at the Hollywood Booster Business Association luncheons and networking events. In response to numerous requests to improve efforts to reduce crime in the area, Portland Police Bureau Neighborhood Response Team Officer Matt McAllister and the city's Crime Prevention Specialist Meg Juarez held a crime watch training in August with Crime Prevention Program Coordinator Mark Wells to mobilize businesses in the district.
Donate to the Clean & Safe Hollywood Project HERE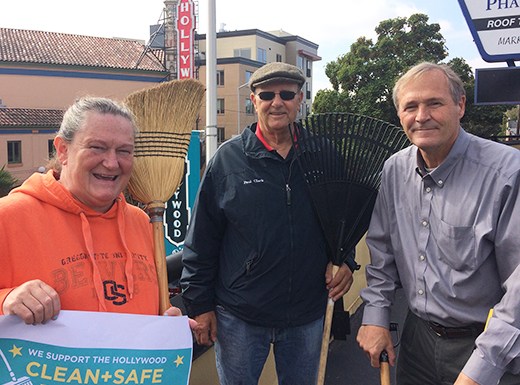 As an offshoot of that training, Mountain Shop General Manager Guy Trombleycoordinated with Wells and Mark Jolin, executive director for the county's Joint Office of Homelessness Services, to assemble a task force and initiate an action plan to tackle the crime in and around the Sandy Studios veteran's housing project at 3800 N.E Sandy Blvd.
"The meeting was very productive and all parties at the table agreed there is an unacceptable level of crime and social disorder occurring, and they pledged to put an action plan in place immediately with support from police," said Wells. "We believe there are several tenants at this location who are involved in a host of criminal activities. There is a growing group of tenants who have already formed a tenant council and want to remove all criminal elements and ensure this location is safe for deserving tenants and for the community. I would like to thank Guy from the Mountain Shop for his relentless advocacy and for reaching out to these agencies to get the ball rolling. He is the reason this badly needed meeting took place."
"The trash problem has overwhelmed many businesses and property owners," said Dave Pietka, owner of several properties and businesses in the district, including the Mountain Shop. "Working together, we can address these issues and visitors to Hollywood can once again be treated to a good experience in our district. Clean, safe streets are a major component of creating a vibrant community. We're asking businesses to step up and many have expressed a willingness to help us move forward."
In October, the Boosters will kick off a pilot program called Clean and Safe Hollywood, with the goal of ensuring that the district is cleaned up and kept safe from those who would intimidate or harass shoppers, residents or businesses.
"We will need the cooperation of business owners and managers, residents, government and local police to achieve our anticipated degree of success," said Booster President Maura White. "We refuse to let street trash and criminal activity take over our neighborhood. We need to communicate better with each other and become active in our prevention efforts."
"Our subcommittee is kicking off its public relations campaign in October and the Booster board will continue to design the program," said Pietka. "Signs will be going up in the windows of participating businesses soon and larger banners will be placed in strategic locations throughout the area. The businesses in Hollywood are preparing to take action to improve the cleanliness and safety of our district. If all goes as planned, a worker will be hired to clean up overflowing garbage containers, pick up litter, remove debris, clean curb lines and sidewalks and report issues of concern to the appropriate government officials."
The program will roll out in three phases. The first will be to improve community awareness, outreach and support. The second will reevaluate the current location and condition of street trash receptacles and improve as needed. The third will be to invest in contracting a person or a team to physically remove street trash in the area and serve as "eyes on the street." The district will be divided into zones and leaders in each zone will be appointed to support and track success. The Boosters are in the process of developing a budget for the program and are exploring different funding mechanisms, including grant opportunities and seed money from the organization itself to get the program up and running and to keep it sustainable for the long haul.
The Boosters are hoping the project will serve as a springboard to build membership in the organization and are encouraging all district businesses to clean the area around their storefronts daily. They're also looking for donations of supplies, weekly dumpster space and people willing to serve as zone leaders.
The Hollywood Booster Business Association is the oldest business district organization in the city and brings together merchants, businesses and professional people of the district to develop the district economically and grow together socially.
"This effort begins with each of us," said White. "I hate having to pick up needles and garbage, but if I leave it there it just attracts more. If every business cleaned the waste in and around their buildings daily, that would be half the battle."
To join the Clean & Safe Hollywood Project, fill out the form below:
For more information on how you can help, call or 503-281-8891 or email Maura White at moc.liamg@sretsoobdoowylloh, Dave Pietka at moc.nsm@akteipd or Booster Secretary Paul Clark at ten.eciffotsewq@pihsnwot.